Whether you're hiking locally or exploring unfamiliar terrain, a number of essential items will make your trek more comfortable and enjoyable. If you're in the woods or other wild area, it's a good idea to bring a few survival items that can help you manage an unexpected storm, overnight stay, heat wave or longer hazardous situation.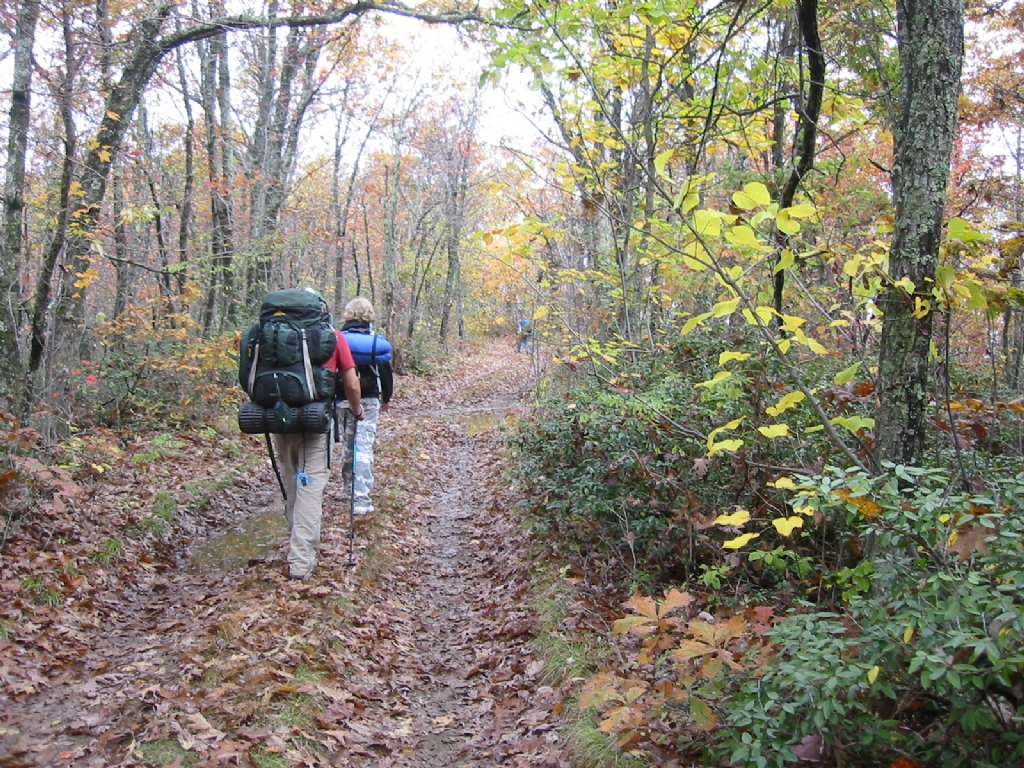 Energy Boosts
Hiking burns lots of calories and your muscles can fatigue even if you've had a good breakfast. Pack food items like granola bars, energy gels, trail mix or jerky to nosh on while you hike. A gallon of water weighs 8 lbs., but hydration is essential. Take several single bottles of water and a collapsible plastic drinking cup so you'll be prepared to share drinks.
Spare Clothing
An unexpected rainstorm, fall into a stream or other unexpected dousing can ruin your day if you have to spend the rest of it in wet underwear or socks. Bring an extra change of clothing, choosing lightweight, breathable material (such as those that wick water away from your skin). Choose light colors if you'll be out in the sun (they reflect, rather than absorb heat). Bring socks that fit snugly to prevent slippage that can cause blisters. Pack an extra, lightweight, light-colored hat in case one gets blown away or soaked.
Maps
Don't rely on your smartphone to point you in the right direction. If your battery dies, you lose reception or directions you find are outdated, having a printed area map can save you from getting lost.
Sunscreen
Use sun block to prevent burning that can make hiking painful. Re-apply a water-resistant sunscreen every two hours or so, depending on how much you're sweating. Even if it's a cloudy day, the sun can still burn you – choose a sun lotion with a skin protection factor (SPF) of at least 15. Your lips can burn and chap (from frequent licking of dry lips), so pack some lip balm. If you don't want to share lip balm (someone might ask you if they can borrow yours), bring several mini tubes.
Bug Repellent
Mosquitos, gnats, no-see-ums and other pests love the great outdoors just as much as you do. Make sure you keep them off by brining a good bug repellent. You can carry a spray or a tube of lotion that you've checked out on the 'net (find one with good reviews).
Survival Items
If there's even a sliiiiight chance that you could possibly get lost and have to spend the night outdoors, be prepared for the worst. Carry the following survival items to prevent serious problems for you or the people with you.
•Matches
•Water purification tablets
•Multi-tool (with knife)
•Compass
•Fire starters (matches, lighter)
•First aid kit
•Flashlight (check batteries)
•Whistle
Personal Hygiene Items
Don't plan on trail restrooms to have toilet paper or soap and water. Bring some extra TP, along with hand sanitizer, baby wipes, feminine protection, deodorant and a cloth towel. Have a plastic bag available for wet clothing. You never know what you might find on the trail that needs to be moved or you want to bring home – pack a pair or waterproof gloves and some large, seal-tight sandwich bags to be ready to deal with "interesting" objects.
First Aid Kit
You can buy first aid kits at your local pharmacy. Make sure you have items to treat sprains, cuts, scrapes, bruises and bites. Check with everyone going on your hike about medical conditions they have so you'll be ready to respond if someone has an asthma attack, allergic response to a bee sting or a reaction to poison oak, sumac or ivy.