Because countertops can have such an important impact on the resale value of your home, you'll want to pick them with more than your personal preferences in mind.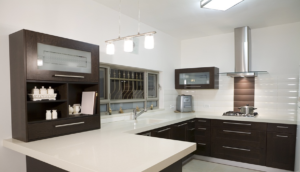 In addition to colors, you'll want to consider the type of material, maintenance and consumer desirability of your countertop material choice. With continued advancements in man-made materials, the quality of less-expensive choices means "less expensive" doesn't necessarily mean "cheap."
Understanding what types of materials are available and how they will last during years of use will help you make the right choice for your kitchen or bath countertops.
High-End Countertops
The more expensive countertop choices include granite, concrete, soapstone and quartz. These materials provide the combination of beauty and wear that make them so desirable. Slab granite, once the clear choice for kitchen countertops, is losing ground to a new granite product that slips over existing countertops.
You may lose your ability to extend the surface of your existing countertops without adding support, but if creating a wider counter top or seating area on one side of your counter is not important, this may be the way to go.
Granite needs periodic sealing to help prevent staining, while quartz does not. Soapstone is a recent entry into the countertop market and has a number of advantages over other stones.
It requires no sealing, and may not require a substrate under it to support the surface, saving you money. In addition to their beauty, these materials offer you the best bang for your buck when it comes to re-selling your home. Concrete tops are durable, let you add inlays and are a growing trend in kitchen countertops. Installed incorrectly, they can crack and stain.
Talk to a realtor before you invest in expensive countertops to learn about current trends, and what materials may be the most desirable in the coming years.
Mid-Range Choices
Solid materials, such as Corian and Silestone, are gaining popularity for their combination of looks and beauty. Corian is a solid plastic, while Silestone has about 5 percent plastic added to quartz, giving it a sparkle other materials don't have.
Unlike more expensive organic materials, these man-made products don't need as much maintenance. Corian requires you to cut on cutting boards to prevent scratching and place hot items on hot pads, while Silestone is more durable. Ask about these and other solid materials as you shop for countertops.
Least Expensive Countertop Options
If you're not worried about re-sale value and are just looking for attractive, functional countertops, you should look at choices such as ceramic tile, wood and the old standby, plastic laminate. Ceramic tile lets you add a harder, more scratch- and heat-resistance surface, but has seams, which may be a problem if you want a completely flat surface.
You'll also need to be careful not to spill items that can stain the grout between the tiles. Wood gives the look of a butcher block but can stain easily, so you'll need to oil and seal it frequently. It's also one of the easiest surfaces to repair with a little sanding and re-sealing.
Plastic laminates have come a long way from the mono-color plastic tops of years ago. They can mimic intricate organic designs and you can find them in a wide variety of colors to match your cabinets or bathroom decor. Laminate countertops damage and stain easier than other materials, but Consumer Reports testers found them to be fairly scratch and stain resistance. Laminate may be a practical choice if you have children, but won't don't do anything for the resale value of your home.
Corners, Edges and Backsplashes
You'll need to include the cost of corners and edges in your countertop budget, as well as a backsplash, if you desire one. With laminate, you'll want to make sure sides and corners don't peel, so discuss proper installation and adhesives with a qualified expert if you plan on installing them yourself.
For tile and stone surfaces, you can go with a flat edge, or spend the extra money for rounded edges. You can choose from a quarter round, double quarter or a full round, known as a bullnose edge. You can choose beveled edges, which provide a sharper, more defined decorative edge, as well. Depending on how much money you want to spend, you can add styles including rock face, DuPont, ogee, waterfall and cove edges, usually used in conjunction with more expensive custom designs.
Reserve some of your budget for a backsplash to maximize the beauty and value of your countertops. Some materials allow you to add a backsplash to protect the wall behind the counter, as part of the countertop, while other options require you to create a separate backsplash. This latter option lets you make a contrast with your backsplash.